Armstrong Engineered Tile Photos
About Armstrong Engineered Tile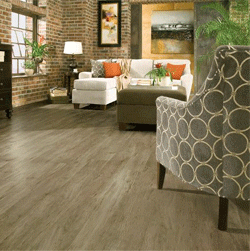 Alterna™ luxury vinyl tile flooring is the innovative alternative to natural stone and ceramic tile. Like stone and ceramic, it's incredibly beautiful and durable. But a comfortable surface makes Alterna tiles warmer to the touch, kinder to your feet, and easier to care for in any room of your home.
Lasting Strength - Enjoy superior durability backed by our lifetime warranty — tiles are water, scratch and stain repellent, and unlike natural stone, they are crack resistant.
Easy to Clean - Engineered tile handles kids, pets, water, high traffic and everyday messes, thanks to a stain-and-soil repellent surface (grout included).
Endless Design Possibilities - Elevate your home's style with stone or reclaimed wood looks, urban-inspired designs, and wall features, to name a few.
Experience Warmth and Comfort
A big downside of traditional stone, ceramic and porcelain is how cold and hard the tiles are. Alterna was designed to capture the natural beauty of these classic looks, while retaining warmth, absorbing sound and feeling more forgiving to your feet.
Installation Made Easy
Yes, it's possible to get gorgeous, durable-for-life flooring in just a day. Alterna is faster, easier and cleaner to install than natural stone or ceramic tile — and best of all, less time and labor means your installation will cost less, too.
Alterna Plank
The Alterna plank collection offers a wide array of wood visuals in a new 8" x 48" and 6" x 36" groutable sizes. Made with innovative Diamond 10 Technology, Alterna plank floors are scratch, scuff and stain resistant
---
---
Featured Products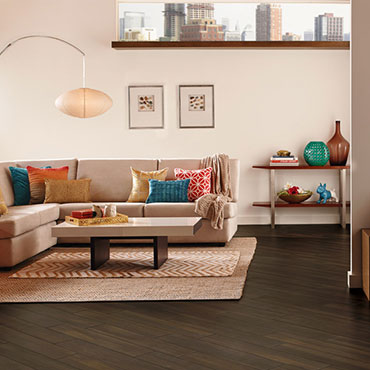 Armstrong Engineered Tile
For many homeowners, the basement isn't just for storage. It's the family room, the play room, the home gym — a frequently enjoyed living space that deserves attention to great design, just like the rest of the house.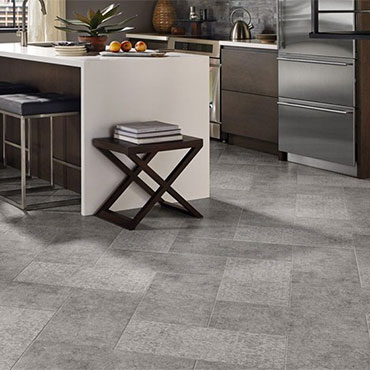 Armstrong Engineered Tile
Like stone, ceramic and porcelain, Alterna Engineered Tile flooring is incredibly beautiful and durable. But its comfortable surface makes Alterna warmer to the touch, kinder to your feet, and easier to care for in any room of your home.
Featured Articles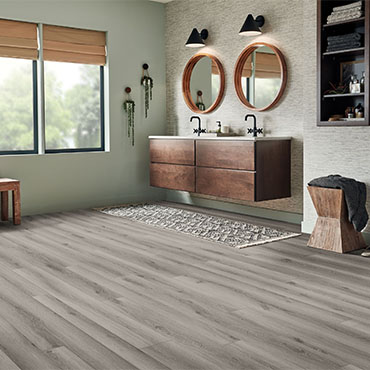 Armstrong Engineered Tile
There's a lot to love about hardwood flooring, but there may be times when vinyl is the best fit. Read about why wood-look vinyl flooring may be the right choice for your project — and what kinds of options you have if you decide to go this route.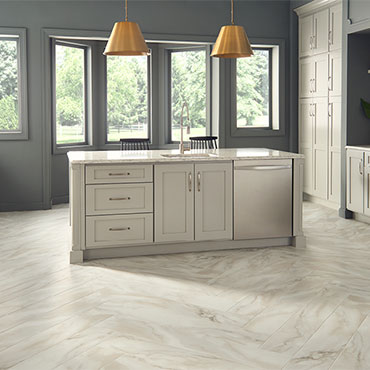 Armstrong Engineered Tile
The kitchen is the hub of your home, where you cook meals and gather for parties. Kitchen floors must withstand frequent foot traffic, dropped dishes and utensils, and spills galore. But because it's a room you'll likely spend a lot of time in, it must also indulge your craving for great style.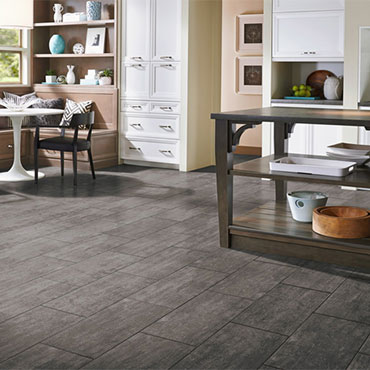 Armstrong Engineered Tile
Imagine the look of natural stone: the captivating mosaic shapes, the delicate veining and the gorgeous blend of organic colors and clefts. You can enjoy the beauty of materials like slate, travertine and quartz, artfully captured in stone-look vinyl flooring.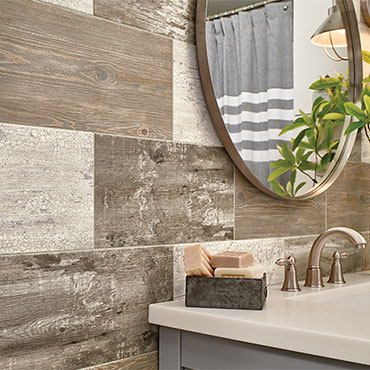 Armstrong Engineered Tile
Wood on the walls was a popular mid-century decorating trend, and, like many looks of that time, it's recently re-emerged, new and improved. Discover how you can transform a room from top to bottom with the enduring beauty and durability of Armstrong products — on your walls.