Pet Friendly Empower Rigid Core Flooring
See More about Pet Friendly Empower Rigid Core Flooring >>>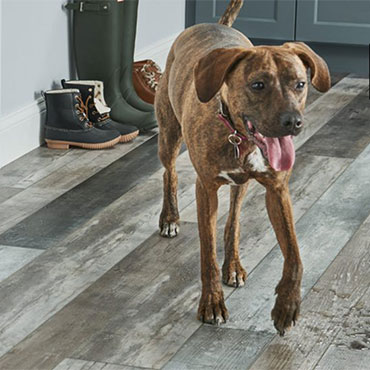 Empower rigid core flooring was built using our innovative new Reinforced Mineral Core to provide the best available performance. This new core outperforms traditional rigid core products in both indent and stability while our exclusive Diamond 10 technology provides best in class scratch and stain protection.
100% Waterproof Planks
Empower rigid core flooring is 100% waterproof making it perfect for high moisture areas such as kitchens, bathrooms and laundry rooms.
Extreme Stability
Empower's reinforced mineral core provides enhanced dimensional stability making it a great choice for three season rooms or for use in direct sunlight.
Stainproof
Diamond 10 Technology provides the ultimate protection against everyday household stains.
Empowered Design
Empower features extra-long lengths and is available in both wide and mixed widths which bring the realistic hardwood and stone visuals to life. It also has twice as many unique planks to reduce repeats and increase realism.
Innovative Reinforced Mineral Core
Exclusive to Armstrong Flooring: Empower features our innovative Reinforced Mineral Core which provides superior indent resistance and can be installed in direct sunlight and three season rooms. Resilient layers are used to add comfort and vibrant visuals while an attached underlayment helps reduce noise transmission. Finally, Empower features the Diamond 10 Technology for the ultimate protection against every day household stains and scratches.
Stainproof Protection
The look of your floor is only as good as what protects it. That is why we developed Diamond 10 Technology to repel dirt, spills and stains as well as provide the ultimate protection from scratches, scuffs, and gouges.
---
NOTE:
AJ Hubbard & Sons does not carry every style of product. Check with us first about a particular product or to see if your product choice is available for special order.
---

---
Armstrong Rigid Core
Rigid core flooring features maximum durability and award-winning design for luxury flooring at its toughest and most beautiful — a perfect combination for active, style savvy homes.
---
Profile
|
Website
|
Design Tools