How to Choose the Best Rigid Core Floor
See More about How to Choose the Best Rigid Core Floor >>>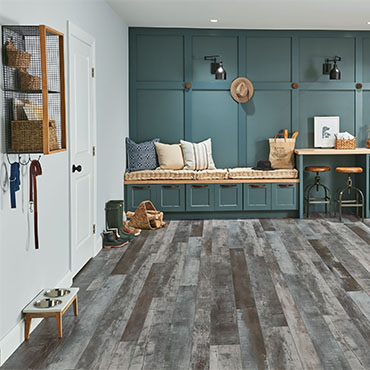 With so many options, finding the best rigid core flooring for your home may feel a tad overwhelming. These Q&As about product construction, style options and installation will help you better understand this unique flooring type so you can shop with confidence.
What is rigid core flooring?
If you're shopping for the best water-resistant flooring, this flooring should definitely be on your shortlist. It's a hybrid luxury flooring that includes the best attributes of different flooring types: waterproof, scratch-, stain- and dent-resistant, and quiet and comfortable.
It's a smart choice for shoppers who want the look and feel of natural wood or stone, plus peace of mind that floors will hold up beautifully in high-traffic or high-moisture areas. Plus, this flooring comes in a huge variety of hardwood and stone-inspired designs, some with visuals and textures so realistic you'd believe it was the "real thing."
What is the difference between rigid core and vinyl flooring?
Rigid core's construction is similar to vinyl tile or luxury vinyl — a wear layer, image layer, resilient core and attached underlayment. Unlike typical vinyl planks that are more flexible, rigid core's thick, sturdy boards allow for an easy floating-floor installation. Planks simply snap together instead of adhering to the subfloor.
This "rigid" construction also gives the floor another installation advantage: it can be placed over subfloors with minor irregularities without the risk of telegraphing (when markings appear on floors due to flexible boards being installed over uneven subfloors).
Is it durable?
Yes, it's incredibly durable in a couple of important ways:


100% waterproof – Like luxury vinyl, it's 100% waterproof, so planks won't swell, buckle or lose integrity when exposed to water. Install it anywhere in your home!


Scratch and stain resistant – The wear layer protects against everyday wear and is super easy to keep clean and maintain over time. Some products (PRYZM and Luxe Plank with Rigid Core) even have a commercial-grade wear layer to take on the toughest challenges. Think kids and pets.


Dent resistant – The firm core provides superior resistance to things like pointy shoes, dropped objects and heavy furniture.


Many Armstrong Flooring rigid core products have a lifetime warranty for residential use, and we also offer products with 30-year warranties.
What is the best collection for durability?
Every rigid core collection is perfectly suited to install in busy homes, but PRYZM offers unmatched scratch, stain and dent resistance thanks to its commercial-grade surface and solid polymer core. Plus, it's backed by our lifetime warranty.
What is the best waterproof floor in the rigid core line?
Easy answer: all of them. Each is 100% waterproof, meaning planks won't swell, buckle or lose integrity when exposed to water.
Where can it be installed?
Install at, above or below ground level — anywhere you have floors! Lots of people pick it for frequently used gathering spaces like playrooms and kitchens where there's plenty of foot traffic (and easy cleanup and comfort are key). Bathrooms, mudrooms, utility areas, laundry rooms and basements are also a good match since these floors perform superbly in high-moisture, high-use areas.
Of course with how realistic, chic and beautiful rigid core styles are, there's no reason to limit your installation to the busiest spaces. Elevate the style and longevity of your living room, dining room and bedroom floors, too!
Is it a good alternative to hardwood?
Yes! Homeowners especially love that you can get really authentic looking wood styles, and have them be durable enough for rooms where moisture can be a concern. Hardwood isn't a good choice for bathroom and laundry room installations, but because rigid core flooring is one of the best waterproof floor options, it's a perfect way to get gorgeous hardwood style in high-moisture areas.
Is it a good alternative to natural stone?
Yes! The tiles from our Luxe Plank with Rigid Core collection look and feel like natural slate or travertine, but they have some advantages — like not cracking beneath uneven subfloors, having no messy grout to maintain, and feeling warmer and softer underfoot (great for bare feet and crawling kids and pets).
What styles can I get?
Wherever your interior design preferences fall — from traditional to rustic to modern industrial — Armstrong Flooring has a rigid core product that will meet both your style and performance goals.
As you browse our collections, you'll notice every style is designed with great attention to detail, creating wonderfully realistic looks to go with any decor imaginable. Choose from:


Hardwood styles – Everything from classic Oak, American Elm and Hickory to exotic woods with vivid grain patterns, all in a wide spectrum of gorgeous hues


Texture and effects – Embossed texture, white-washing, liming, and brushed and reclaimed looks — plus multi-width planks or multi-colored patterns to add depth and drama


Classic stone styles – Slate and travertine lookalikes or concrete-inspired planks


Rigid Core flooring with hardwood, texture and effects and classic stone styles
Where can I find the best rigid core flooring for my style?
You'll find that many of Armstrong Flooring's most exciting and on-trend styles feature rigid core construction. Browse your options, then visit a local retailer to get started.
Empower pairs an innovative Reinforced Mineral Core with the stainproof protection of Diamond 10 Technology. Available in both 9" and mixed width options in our longest length yet, 72".

Rigid Core Vantage offers striking and realistic wood designs in an extra-long, 7" or 9", plank format to create a dramatic look that's perfect for any room.
Rigid Core Essentials offers 6" wood-look planks in both classic and trending styles.
What are the installation options?
We've rated this flooring "DIY Level: Beginner, so if you're pretty handy with tools and cutting you may feel confident tackling installation on your own. You can also consider the benefits of hiring a pro. Either way, we offer tips and step-by-step instructions that will help.
Angle-locking installation. All rigid core products are angle-locking planks or tiles. You simply connect boards to each other on an angle, then snap into place. The flooring then "floats" over the subfloor. An attached underlayment makes for smooth placement over slightly irregular subfloors and eliminates the need to purchase and install separate padding.
Glue-down option. Sometimes we may recommend that certain rigid core products be installed using a traditional full-spread adhesive that you spread over the subfloor with a trowel before laying down boards. This is typically for rooms with a lot of direct sunlight.
No acclimation is needed for most installations and rigid core products can be installed over large areas without transition strips.
---
NOTE:
AJ Hubbard & Sons does not carry every style of product. Check with us first about a particular product or to see if your product choice is available for special order.
---

---
Armstrong Rigid Core
Rigid core flooring features maximum durability and award-winning design for luxury flooring at its toughest and most beautiful — a perfect combination for active, style savvy homes.
---
Profile
|
Website
|
Design Tools